A friend brought me along with her when she went shopping. We stopped at a LQS called "All in Stitches." I resisted mightily, but we were in that store for one minute too long. Alas, when I left, I had a kit for a table runner clasped firmly in my hot little hand...I was going to QUILT!
I finished that table runner the first weekend and ended up giving it to my Sister-inLaw for Christmas. When my Mother-in-Law saw it, she laid a heavy hint that she'd like one too. My Mother-in-Law likes to quilt, but hates piecing. Still, I was feeling a little intimidated about giving a quilt to a quilter.
Finally, I decided to try the pattern again, only this time I'd choose colors that would fit into my in-law's color scheme for their new house. Here's the result: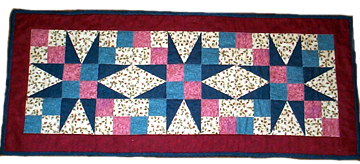 >
This page was last updated on December 10, 2000.