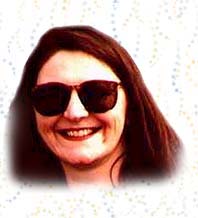 Beadings and Salutations!
I've learned a lot of tips, tricks, and techniques from other beaders along the way, this is where I plan to show some of my work, and maybe share a thing or two myself.
Now that you're here, let me introduce myself! I'm Judy Fearn, known to some as Beadme, to others as Sparky, and I'm not tellin' what my brothers call me! My mother is to blame for this addiction. She taught me how to make beads with Polymer Clay, which lead me to a local bead shop to buy a copy of Bead & Button. In that issue was the most fantastic beaded amulet purse with a frog on it. I had to try it! So I did--and the addiction has been with me ever since. Soon after discovering seed beads, I discovered the Upper Midwest Bead Society. On my first night there, I volunteered to become Newsletter Editor. I did NOT know what I was getting into. It's been fun, though, and I've made good friends with and learned a lot from these beaders.
For the more mundane details of my life, I'll leave that to another page...when I get time to complete it!
This page was last updated on 03/04/00.
If you have comments, queries, or suggestions, please email me!
Ok, I just had to know that
people looked at my page.
[ Home ] [ Ornament ] [ Photo Album ] [ Links ][ Email Me ]